Coming March 2021

Captured by Grace: Be Freed From Fear So You Can Really Live!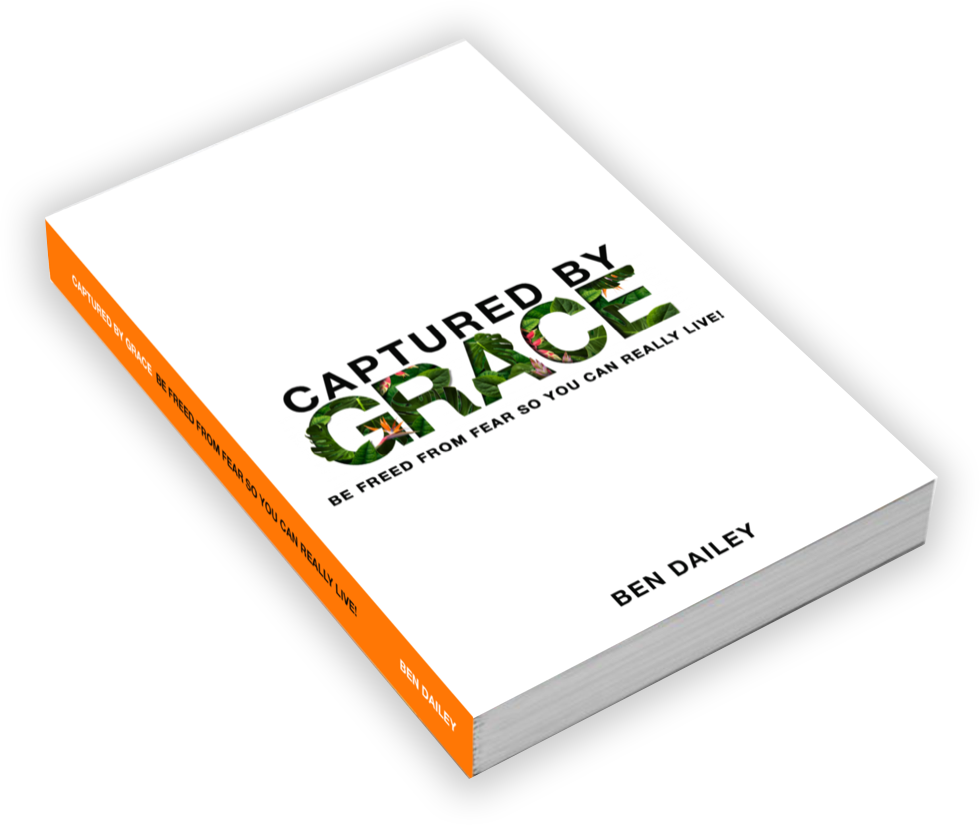 Ben Dailey serves as the lead pastor of Calvary Church, a multi-congregational church in the Dallas/Fort Worth Metroplex. He is the author of Collide: When Your Desires Meet God's Heart and Limitless: The Life You Were Meant To Live. He has also served as a church planter and ministry consultant.
Known for his love for the gospel, creative style of communication and non-conventional ministry, he reaches one of the most culturally diverse congregations in the nation.
"Right thoughts about God, about His grace, about your identity, and about His purposes revolutionize the trajectory of your life."
Be the first to know and stay connected.
Fill out the form to receive announcements, words of encouragement, and special updates.
Join Pastor Ben's email list today!
"The past now has no power to condemn you, but it has great power to teach you. God never wastes a season."
Order your copy of
Ben's new book today!

SHARE LIMITLESS WITH YOUR FRIENDS AND FOLLOWERS
"The more we live in grace, the more grateful we are for all God's gifts to us."
John Bevere
– Bestselling Author | Founder of Messenger International –   "Many people live life striving in their own efforts rather than thriving in God's grace. Ben Dailey candidly tells his story of discovering and embracing one of God's greatest gifts. If you allow it, this message will transform the way you look at the grace of God and empower you to live a free and full life."
Tommy Barnett
– Senior Pastor, Phoenix First Assembly | Founder, Los Angeles Dream Center –   "One of the words Ben Dailey uses in his book to describe the way many Christians live is grind. That's so very true and so very sad. When we aren't thrilled with the treasure that is Jesus, we're left with our own attempts to earn approval. But no matter how much we do, it's never enough. Life becomes an unceasing grind, and our hearts are plugged shut. We hear about love, but we don't feel loved. We read about joy, but we feel discouraged or arrogant. Ben shows us another way, the way God intended all along: accepting His wonderful gift of grace and letting it change us from the inside out."
Dr. David Anderson
– Author of Gracism –   "Ben Dailey hits the nail on the head — he obliterates our addiction to performance and achievement by reminding us about the amazing nature of God's grace! This book is liberating, but it will probably make legalists as mad as hornets. If you've been bound by religion or crave the freedom that comes from Jesus Christ, then Ben's book is a good first step toward a renewed faith in a limitless God and an unleashed life."
Bishop Tony Miller
– The Gate Church, Oklahoma City, Oklahoma –   "Many writers communicate factual information, but a few give voice to a life-changing encounter they're experiencing. In Limitless, Ben Dailey invites us to go on a journey to discover what has transformed his life and ministry: the incredible and empowering grace of God. Limitless isn't just good advice on how to live, nor is it a set of principles of self-improvement that promise more success in life. Rather, it's the announcement of an entirely new way of living — the empowerment of grace that's found in the person of Jesus Christ. Read it expectantly, and you'll discover that you can be a person of unlimited possibilities!"
Phil Munsey
– Chairman, Champion Network of Churches with Joel Osteen Ministries –   "To prejudge everyone and everything through the person and work of Jesus Christ — that is the creed of what I call a 'gracist.' Ben Dailey qualifies as a radical person of grace. His blunt honesty in Limitless is both delightful and demanded. Like Ben, many of us who have grown up in the church have been bewitched to believe another gospel. A gospel that began in grace but drifted into an I-will-work-for-salvation deception. The bait and switch of religion has caused many to cut the line of their faith. Someone please take us back to the cross. Help us to stare at the sacrificial work of Christ until we vow never again to insult grace with our works of the flesh. Ben Dailey has taken on that task, and you are the fortunate beneficiary of this timely and needed message. Tap the limitless power of grace."
Dr. Samuel Rodriguez
– NHCLC/CONELA President, Hispanic Evangelical Association | General Bishop, Pentecostal Church of God –   "We aren't defined by what we do for God, but rather, by what God already did for us. In Limitless, Ben Dailey takes us on a journey that will correct spiritual and religious myopia so we can embrace the catalytic message of Christ-rendered grace – a grace that is sufficient indeed!"
"Grace transforms those who experience it, but it infuriates those who insist on proving themselves." When Your Desires Meet God's Heart
It's inevitable. Sooner or later, our desires will collide with God's heart. His purposes are far higher than ours, his wisdom far deeper, and his love far wider. From our limited perspective, we think we know what God should do to bless our lives. We have dreams for our careers, our marriage, our kids, and every other aspect of life. Sometimes, we're right on track, but today, tomorrow, or a year from now, we'll realize our hopes and dreams have crashed. At that moment, we have a decision to make: Will we shake our fist at God, walk away, or cling to Him more than ever before? The moment our desires collide with God may seem like the end of a dream, but in reality, it's the beginning of fresh insights and renewed hope.